Skip to Content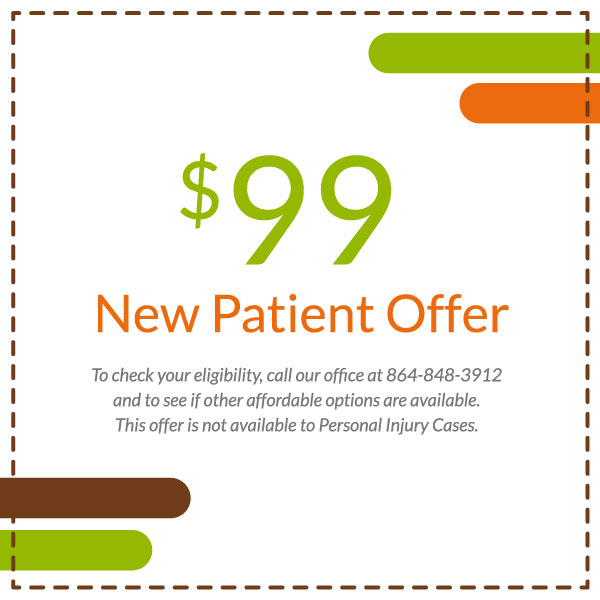 About the Offer
We are sharing a special new patient offer! Finances should not get in the way of getting your spine evaluated properly. This offer includes a new patient consultation, history, examination, and necessary x-rays to thoroughly evaluate your case.
We believe everyone deserves the opportunity to receive a thorough spinal evaluation. Anything FREE or CHEAP is just that Free or Cheap! You and your health are important, so we do not do Free and Cheap, but we do offer comprehensive, affordable, and thorough evaluations.
Chiropractic might change your life! It changed ours. That is why we decided to become chiropractors. If you want to see how chiropractic might be able to help you improve your health, then check out the offer and fill out the form today! Remember to not submit any Protected Health Information (PHI) with this form. We will contact you to fill out the appropriate forms.
No Insurance? No Problem!
We offer the New Patient Special and a discount plan through Chiropractic Health USA making chiropractic care accessible for patients who do not have insurance coverage. CHUSA is designed to provide affordability and greater access to chiropractic care at Ehlich Family Chiropractic in Greer South Carolina.
Membership to CHUSA includes:
$49 per year covers entire household
Allows members access to discounted services including:

New patient evaluations
X-rays
Chiropractic adjustments
Re-examinations
Program is not an insurance plan but a discount plan. Can not be used in conjunction with other health plans that have chiropractic benefits. Personal Injury and Worker's Compensation cases are not eligible for the offer. Not applicable to referrals outside the office. Discounts applied once evaluation and recommendations of care are determined.
Family Chiropractic Center in Greer, SC